DISCOVER YOUR STYLE
Welcome to Vine Styles, the wine shop where the motto is "wine done different". What does that mean? At Vine Styles we're interested in thinking outside the box and unlike the traditional approach taken by most wine shops, we are in the business of tailoring the wine shopping to your taste buds.  You've heard of bespoke suits; this is bespoke wine shopping, conveniently located in Kensington.
We hope that you'll enjoy our shop that prides itself on doing things a little different and in the process offering a wine experience that is fun, approachable and engaging. 
Next time you're looking for a bottle come visit us and we'll show you what sets us apart. We love wine and want to share that passion with you!
Macaron & Wine Pairing
Join us to taste four of Ollia's signature macarons with your choice of tea (let us know at time of booking) or French wine: learn about the region of production, what makes these drinks unique, and become an expert at pairing.

Tastings of the macarons are lead by Food Network's, Wall of Bakers Judge, David Rousseau's Team.

Wednesday, December 13th at 6pm

$45 per person + tax and Eventbrite fees (attendees must be 19 or older - ID required)
Click here to purchase Tickets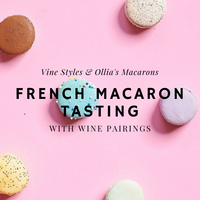 awesome store...and amazing customer service! really blown away by how far out of their way they went for me with an online order

thank you very much, will definitely continue to use vine styles' services

Alfred Pride
Great monthly wine club program - my friend speaks so highly of every month's set of wines and their staff are incredibly kind, informed and helpful!

Elliot Cudmore
Fantastic shop, with expert staff that really know my taste whether that's fine wine or brown liquors. Excellent selection and intuitive product organization . Check them out, they'll soon be your favourite as well.

Kris Benson
Love the knowledgeable staff here! Amazing selection of wine at all different prices and they also have beer, cider and hard alcohol!

Ally Janet
Fun and eclectic wine shop, you will always find something different and delicious here! Their wine tastings are always amazing and educational, we booked a private one for a friend's bachelorette and it was a blast!

Caitlin Kausche
Location
Vine Styles
1127b Kensington Rd NW
(downstairs)
403-474-8367
Open Daily!
Sunday: 11am - 6pm
Monday to Wednesday: 11am - 7pm
Thursday to Saturday: 10am - 7pm