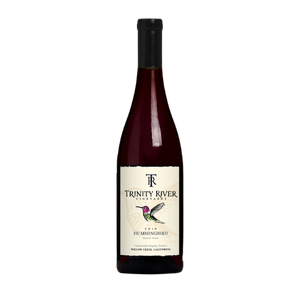 Humbolt County, California
Aromas of red raspberry, strawberry, fresh blackberries, and dark plum. On the palate, it presents itself as delicate and fruit-forward, adorned with red berries, a hint of baking spices, and a luscious dark plum richness. Soft, light tannins lead the way to a refreshing finish, making it an exquisite embodiment of cool climate elegance.
Pairing Suggestions: The delicate tannins and refreshing finish make it an excellent choice for pairing with roasted poultry, such as duck or chicken, seasoned with herbs and spices that echo the wine's subtle baking spice nuances. For those who prefer vegetarian options, consider pairing this Pinot Noir with a wild mushroom risotto. For an adventurous pairing that embraces the wine's versatile nature, indulge in a charcuterie board adorned with a selection of artisan cheeses and cured meats.