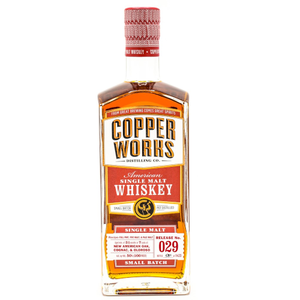 Copperworks American Single Malt Whiskey is created from 100% malted barley, twice-distilled in Scottish copper pot stills, and matured in full-sized, charred, new American Oak casks.
Release 029 was created by combining five casks of whiskey distilled from a barley variety called "Full Pint" (grown and malted in Washington's Skagit Valley) with a cask of our Five Malt recipe, plus a smaller amount of whiskey that was aged in a Cognac cask and finished in an Oloroso Sherry cask. The three whiskeys in this release spent different amount of time aging in wood, but all were aged for at least 31 months.
Tasting Notes: Aroma of green tea, strawberry, orange marmalade and driftwood, leading to flavors of passion fruit, coffee cake, red wine, and apple. The finish is drying, with tea leaves, grape skins, cinnamon sticks, and campfire flavors.