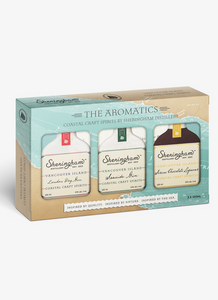 Vancouver Island, BC
A collection of premium gin from an award winning distillery in Vancouver Island!
London Dry Gin with a balanced bouquet of bright juniper and citrus. Luxurious mouth feel with soft edges bringing together citrus and juniper, leaving the palate with a crisp and dry sensation and a faint trace of spice. Beautiful in its simplicity, this gin does not need much to shine. Get to know all of this gin's nuanced flavours in a refreshing and elegant martini. Incorporate this extremely versatile spirit into an array of other gin cocktails or simply sip over ice with a twist of lemon.


Seaside Gin, is the winner of "World's Best Contemporary Gin" at the 2019 World Gin Awards in London, UK, brings floral notes from lavender and wild rose petals, partnered with lemon and orange peel. A perfect sipper, Seaside Gin makes an incredible gin and tonic, or a myriad of other gin based cocktails.


Sirene Chocolate Liqueur, is a true bean to bottle experience. Sheringham Distillery teamed with artisan chocolate makers of Victoria B.C., Sirene Chocolate, to produce a dark chocolate lover's dream - Sirene Chocolate Liqueur. Taste the notes of fruit, citrus, bitter, leather or fudge lightly back-sweetened. The perfect sipper or great addition to a cocktail.