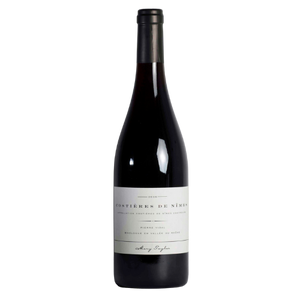 Costières de Nîmes (AOC), Rhône, France - 60% Grenache, 20% Mourvèdre, 20% Syrah
Aromas of an inviting blend of spicy dark berries, blackberries, blueberries, and mature strawberry, brushy "garrigue" herbs and native botanicals. The palate has a weighty fleshliness with flavours of both red and black berries along with that classic white pepper spice. Firm tannins and a firm structure, makes for a wine that unfolds, and develops in the glass, hinting at the flinty pebbles ("grés") found in Pierre's vineyards. This deep-veined minerality adds a final touch to the beautiful complexity of this wine.
Pairing Suggestions: The versatility of this wine makes it a star at backyard BBQs and casual al fresco dining. Its robust character is a match made in heaven with juicy burgers, grilled chicken, or smoky ribs right off the barbecue. But don't stop there, this wine is equally enchanting with a variety of grilled vegetables, bringing out their charred sweetness (Think roasted red peppers). It's the kind of wine that invites second helpings and ignites warm, engaging conversation under the open sky.